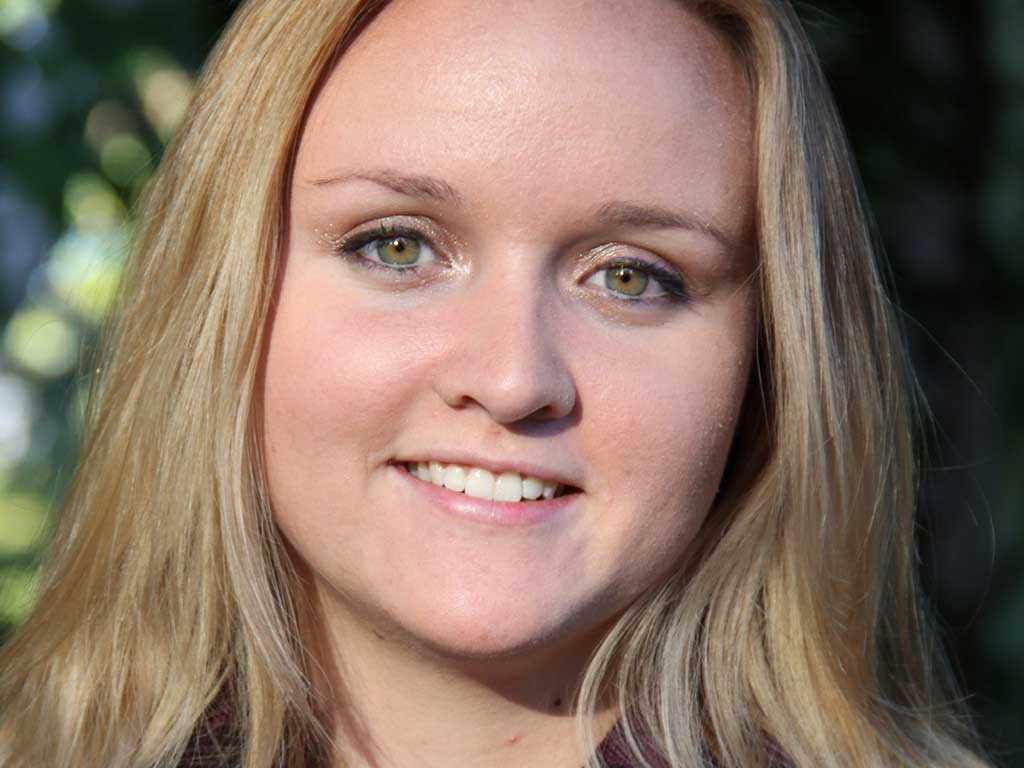 As a trauma therapist, Allyson helps families and staff to see the "why" behind children's behaviors.
CEDARS: Hi, Allyson. What was it like when you were a kid?
Allyson: My dad's job required our family to move frequently growing up (about every 2 years). So as a very shy kid, it really challenged me to learn to build relationships and learn about people from different cultures, with different thoughts/ideas/norms etc. Moving also made me really close to my family because they were the only constant in my life growing up. My favorite memories were celebrating birthdays. My mom would decorate the house with streamers and balloons while we slept so we would wake up birthday morning to a decorated house. It was little moments like these that really built our family and that I remember the most. Moving so often also developed a desire to invest in a community. I was very accustomed to learning to adapt to a new environment but as I got older and started out on my own, I was really excited for the opportunity to be established and serve the Lincoln community.
CEDARS: How long have you worked at CEDARS?
Allyson: My 2 year anniversary is coming up in August 2018.
CEDARS: What do you currently do at CEDARS?
Allyson: I am a trauma therapist. Every day is vastly different and some mornings I don't even know what the rest of my day will entail. I typically spend time in our emergency shelter meeting with youth to develop safety plans and build their self-regulation skills. I collaborate with probation officers, therapists, and parents to advocate for the best mental health treatment for youth. I provide consultation, support, and ongoing training about trauma and mental health symptoms to staff. Most recently my position has grown to include the training of staff and foster parents in a new model of care called Risking Connection that helps caring adults understand the effects of trauma on the developing brain and how we can care for those who have experienced that. Even though I tend to be very soft spoken and very intimidated by speaking to large groups, I'm incredibly passionate about understanding and healing trauma and think the content is going to be life-changing for an incredible number of families in our community.
CEDARS: What keeps you coming to work each day?
Allyson: I love my job. Working as a trauma therapist is really challenging personally and professionally. Some days it's difficult to hear the trauma disclosed by the children; I would do anything to end abuse in the world but that's not realistic. What I CAN do is be the person that helps a child build resilience and live a full and meaningful life despite the challenges they've faced. It's an honor and a privilege to witness the growth, strength, and compassion my clients possess. I also LOVE my co-workers. Nothing can compare to having supportive relationships with other people who 'get it' when doing this work.
CEDARS: How have you found your fit at CEDARS?
Allyson: CEDARS has been the perfect fit for me. Leaving grad school it's always unknown where you might end up. But as I spoke with people about CEDARS and what this position would entail, I began to really appreciate the reputation and mission of what CEDARS was doing in our community. After meeting with my supervisor and learning about the new curriculum in trauma informed care that was being developed and rolled out, I knew that CEDARS wasn't just a job but a place that I would like to call home for my career.
CEDARS: What is something you have learned while working at CEDARS?
Allyson: On a daily basis I'm blown away by the amount of compassion and drive that exists to serve kids and their families. I've learned that despite anything else, hope always exists, and people are more resilient than I've ever realized. It may sound silly, but the more I work with kids and teenagers, the more I realize that despite unique challenges in their lives, kids are kids—they're hilarious, and curious, and individuals.
CEDARS: How do your values influence your work?
Allyson: My primary work is in our emergency shelter. Teamwork is the epitome of how we operate. I would say it's a daily occurrence that we are working as a team. The foundation of healing trauma is having a relationship with the client. We capitalize on having a wide variety of staff personalities and utilize these differences to build meaningful relationships with the equally diverse clients that we serve. When clients can really connect with a staff and they feel genuinely cared about by the staff, the daily functions such as safety planning, and keeping kids safe become so much easier.
CEDARS: What is your favorite part about your job?
Allyson: I love that every day is different. I get the opportunity to be embedded in so many different programs I feel I have a unique opportunity to get to know so many of my coworkers and clients across the agency. I love the moments that youth will complete a survey at discharge or call back and say "hey, I'm doing great and you believing in me made all the difference." I love when you see a child who has been through significant trauma have a 'normal' childhood experience and spend even a few moments laughing and being a kid.
CEDARS: Tell us about a fun time in the office.
Allyson: I was working with a teen who had experienced significant trauma. He was very hesitant to build relationships because his experiences had taught him that people were not safe. I worked with him for weeks and he often refused to speak to me, or offered only one word answers. One day, as I went to meet him, I found him and another staff member looking at Snapchat filters. The youth would "swap faces" with staff and distort his voice. This very quiet, reserved child was laughing to the point he had tears flowing down his face, barely able to catch his breath. It was a simple but absolutely pivotal moment in working with this client and his willingness to engage with us dramatically increased. He now saw us as people who cared about him and for that moment in time, this young man got to experience pure joy. We followed up with this family and CEDARS was able to continue providing services for the entire family. This family is now living together and they are doing so well!
CEDARS: What would you say to someone considering going into the type of work you do?
Allyson: Understand how trauma impacts people. When you can start viewing behaviors as symptoms of their trauma and understand WHY people behave a certain way, you can approach anyone with empathy and compassion. A trauma informed approach really shows that people are survivors and they adapt to incredibly difficult situations. When you can respect and honor that their current responses are based upon past experiences, you can help them learn to regulate. It is such an honor to work with people, to hear their stories, and to be a witness to their growth; don't ever lose that respect or reverence or perspective. Take care of yourself. Recognize the impact this work WILL have on you and make sure you have adequate supports in place. Make friends at work, this will help you survive some of the toughest days. And make sure your identity isn't completely wrapped up in your job, find other passions and hobbies outside of this work; that's what will allow you to continue to do this work for the long haul.
CEDARS: What do you like to do when you're not at work?
Allyson: I have a 1 year old. My favorite part of the day is picking him up and going on a walk or playing outside before dinner. I also really enjoy landscaping and working in my yard.
CEDARS: What is something you want to make sure everyone knows about you or your work?
Allyson: Don't ever underestimate the power of just sitting with someone and telling them "I see you, I hear you, I recognize you, and you matter." It's sometimes the only message that people need to hear.