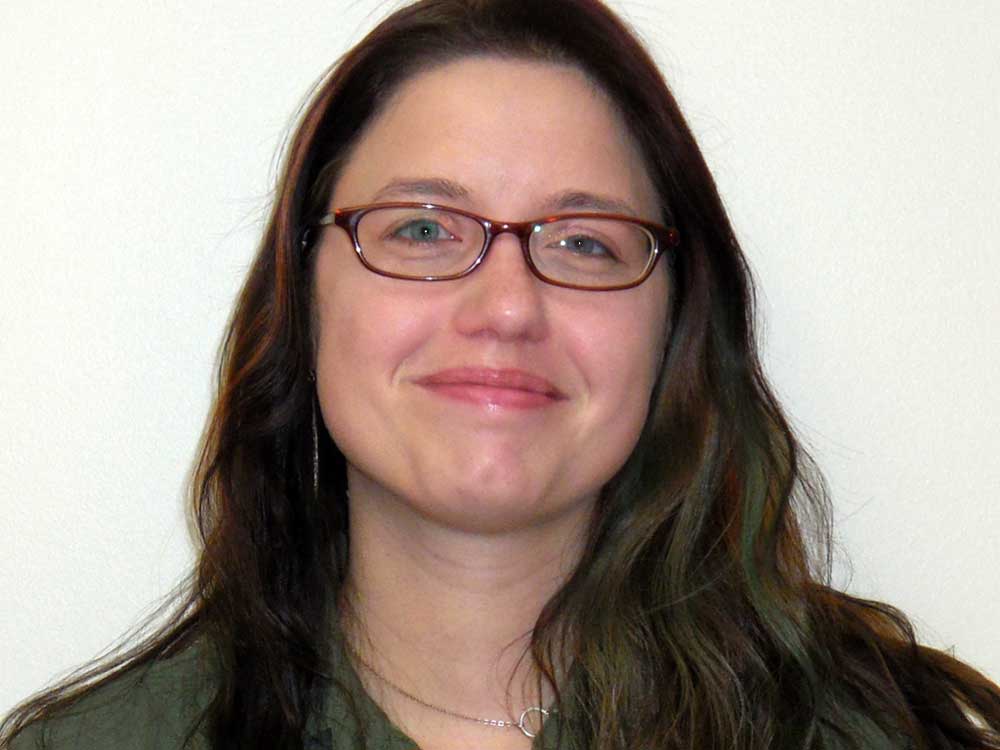 Lisa supports youth experiencing homelessness at the CEDARS Youth Opportunity Center.
CEDARS: Hi Lisa! Help us get to know you. Do you have a favorite childhood memory?
Lisa: My favorite childhood memories would be of my sister and myself spending time together. We would make up games and songs that always made us laugh. Even today we can reference those times and find ourselves cracking up over our silliness!
CEDARS: Do you have any hobbies, like singing, now as an adult?
Lisa: When I have the time to devote to my hobbies (when I'm not busy with my FOUR children) I like to spend time making things: clothes, blankets, scarves, just being creative.
CEDARS: How long have you worked at CEDARS?
Lisa: I have worked at CEDARS for about a year. I started in the Family Support Program, helping families who were at a breaking point remain together. But I kept my eye on any opportunities that might open up at the CEDARS Youth Opportunity Center. When an opening came up for a position that would entail being a part of the Youth Opportunity Center team I was excited to move into that position. I love working at the Youth Opportunity Center and cannot imagine moving to another position!
CEDARS: What is your typical day like at the Youth Opportunity Center?
Lisa: Honestly, no day is typical or routine in my position and that is something I like about my job. During the hours that the center is open, I prepare a daily meal and hang out with the youth. If the youth need any food or personal items, I distribute those as well. During the other hours, I meet with my clients that we're assisting with independent living, transport youth to the grocery store or to obtain their driver's license, attend meetings in the community, and pick-up donations. There are many facets to my job and that makes it fun!
CEDARS: How do your values play a role in your job?
Lisa: I have a client that frequently comes into the Youth Opportunity Center and needs someone to talk to and get his feelings off his chest. He knows that he can come to me and we can talk about whatever is going on in his life and I won't judge his feelings and thoughts. He often says that he enjoys being able to come to the YOC and it is a reprieve for him.
CEDARS: What is your favorite part about your job?
Lisa: The favorite part of my job is being with the youth. I love building a relationship with youth and getting to know their lives and personalities. During the time that I get to spend with them, I hope that I am able to provide them with the means of making other parts of their lives successful. I love being able to help them find housing, go back to school, find a job, and pursue other goals.
CEDARS: Is there one particular client that you feel was significantly impacted at CEDARS?
Lisa: There is a youth who came to us experiencing homelessness. We were able to assist her in obtaining a safe, stable and independent living situation. She does not have a relationship with her parents and has little support from others. She is set to walk the stage with her class for graduation in May, but she is already done with high school. She is a hard worker. I'm helping her fill out job applications for her second job. She is interested in attending college and we are going to explore that option together. When she became sick recently she reached out to me and asked for help. I brought supplies to her apartment like Vitamin C drops, soup, and tea. She was very appreciative that I took the time to do that for her. While this may not seem like a significant impact to some, I feel like it is because she knows that she can trust me and that I will be there to help her out when she needs help.
CEDARS: What is something you want to make sure everyone knows about you or your work?
Lisa: I have been through many of the same experiences that our youth are in currently. I have been homeless and couch-surfing. I have had no food to eat. I have been in a bad relationship. I grew up in an abusive household. I have been a single mother of two children. But out of these experiences comes my want and drive to help our youth. I want them to know that I do know what they are going through and that they can't let the negative define them. Our youth have a chance to have happy and fulfilling lives, just like everyone else.