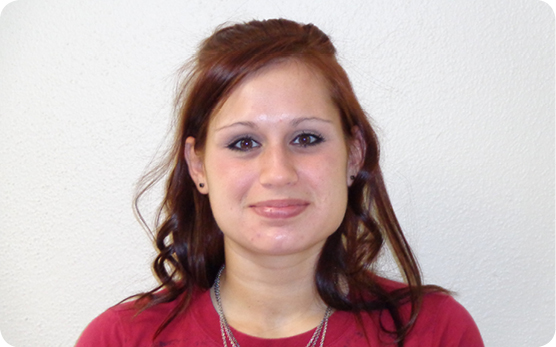 Sarah is a toddler teacher at CEDARS Carol Yoakum Early Childhood Development Center. We asked her to tell us more about herself and her work at CEDARS.
CEDARS: What was it like when you were a kid?
Sarah: I grew up like a lot of this kids who are in my care. I know the struggle of being a little one and trying to get by. This job gives me purpose and hope to change the world one kid at a time. I remember one time I fed the block with peanut butter and jelly sandwiches that I made on my friend's front step. Another great memory was my grandmother used to pick me up from a half day at kindergarten and take me for ice cream before we ate dinner with my Grandfather and my brother. It was always "our secret".
CEDARS: How long have you worked at CEDARS?
Sarah: I have been with CEDARS since August of 2012. I started out as a Relief Youth Specialist for a couple years. Then I graduated college and took a job as a preschool teacher at our Carol Yoakum location. I then transferred to the toddler room after a brief leave.
CEDARS: How have you found your fit with CEDARS?
Sarah: I always thought I was going to be a case worker but I love to work first hand with my families in our care and the children. I get to see the kids that need my help and give them lots of love and help them grow.
CEDARS: What is your typical day like at CEDARS?
Sarah: When I first walk in the door I am swarmed with toddlers giving me a hug and shouting my name. I always say I am famous here in my toddler room. We eat breakfast together, change diapers, clean up, we do circle time, art, read stories, play with toys, clean up and get ready for lunch. Before lunch we dance to silly songs and sing to Moana or Frozen. After lunch, they take a nap. This is the time where I make sure all my friends are asleep; if not I pat backs. I send emails daily on the children, clean the classroom, work on my assessments, finish with art work, and put things away during nap time. When they wake up we do snack and then free-play until pick up. We also spend time outside if the weather is nice. Fridays, we do water day which is a blast! We have a sprinkler, sponges, and tubs of soapy water to play with. We are on a set schedule and this helps the kids get used to routine and help keep structure in their lives with set meal times along with what to except during the day.
CEDARS: How do CEDARS values influence your work?
Sarah: We see the values every day with families and coworkers. Families trust us with their children, we respect their decisions, we show compassion to our families, we have integrity in our work, and we work so well as a team at Carol Yoakum.
CEDARS: What do you like to do when you're not at work?
Sarah: When I am not working I am with my family and friends. I like to go to movies, the library, color in my adult coloring book, go to the lake, play Super Nintendo, and play board and card games, especially Phase 10!
CEDARS: Is there one particular child that you feel was significantly impacted at CEDARS?
Sarah: This is a tough question! All the children in our care are impacted at CEDARS. We like to keep the families involved in what is going on and have family events. We keep daily contact with most families by email. Families are impacted by the holiday gift program around Christmas time when they can't afford toys for their kids.
CEDARS: What would you say to someone considering going into the type of work you do?
Sarah: This job is not a sit-down job. You are on your feet, staying active, must have quick decision making skills, and be flexible. You keep busy but it is very rewarding. If you want to work directly with children and make a difference in their lives this is the job for you.
CEDARS: Thank you Sarah!
Sarah: Of course! just want to add, we are more than just a daycare. We provide quality care—most of our teachers have degrees. We all want to teach these kids and provide them the best care possible and have them learn important skills that they can continually keep adding on to in their lives. Every child is different and some children may need some more one-on-one time. It just takes an extra book, an extra hug, or a couple extra minutes to make all the difference in the world.