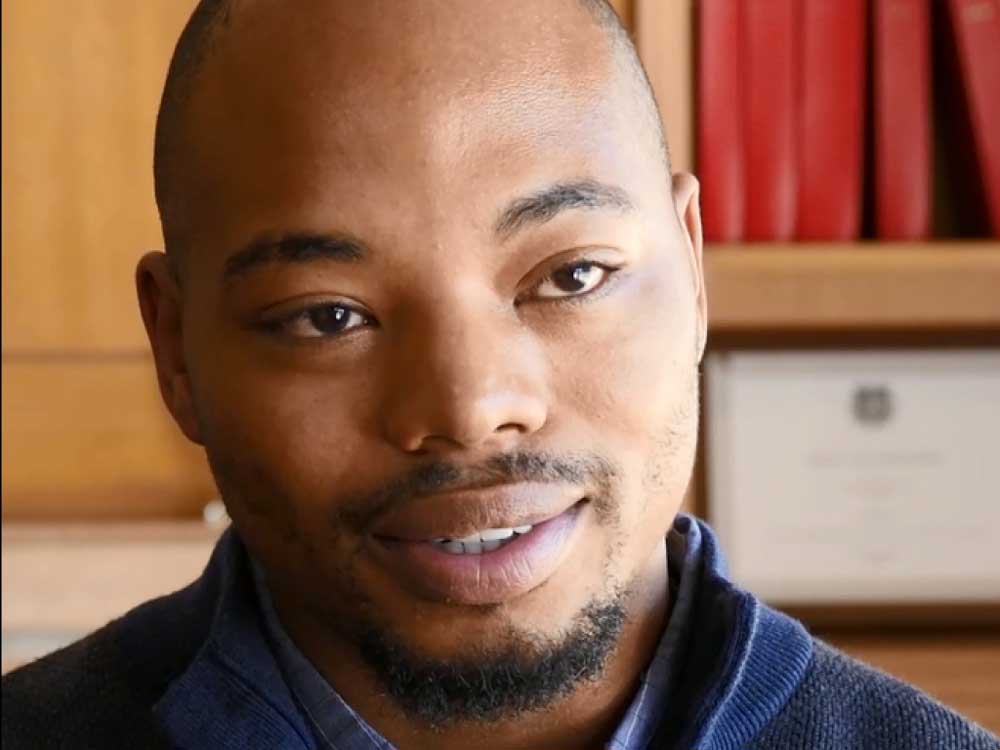 Roderick is the Assistant Program Director for the CEDARS Pioneers Center emergency shelter, helping to provide a safe space for youth in need of a place to spend the night and support from a caring and devoted team of caregivers.
CEDARS: Hi Roderick! What was it like when you were a kid?
Roderick: I spent a lot of time with my family. We had 4 boys and 1 girl, so there was always plenty going on. We went on many family vacations ranging from the Black Hills in South Dakota to family trips to Louisiana; we would take breaks at every major stop along the way. The prevailing best time I could remember was not the major holidays or some significant event, it was your typical evening family dinner. We, as a family, would sit at the dinner table and it would start with a prayer. Then we would talk and eat. After eating we would help clean up, have a little bit of play time before cleaning up and going to bed. Thinking back on it now, I really appreciate all the love, time, and effort my parents gave to their children.
CEDARS: Thanks for sharing that, Roderick! Can you tell us, what is it you currently do at CEDARS?
Roderick: I am an Assistant Program Director at CEDARS Pioneer Center, which is an emergency shelter for unaccompanied youth who don't have any other safe place to spend the night.
CEDARS: What keeps you coming to work each day?
Roderick: Knowing that I can come to CEDARS where such a healthy and vibrant environment has been created and having the ability to have a maximum positive effect on the lives of young people. I really feel as though we can help make our city, state, country, and world a better place for everyone by helping the youth we serve.
CEDARS: How have you found your fit at CEDARS?
Roderick: I found that I fit exactly where I am at Pioneers Center. I started part-time and everything was so new. I found my niche in the recreational activities with the youth. I felt it was my duty to ensure that I challenged them mentally and physically daily to be the best possible person and to put forth maximum effort. This was done mainly during Saturday outings where I modeled appropriate behaviors in public and appropriate conversations with others in the community. Once I had the opportunity to model, I challenged many of the youth to say something nice or have a nice conversation with someone. Taking the kids to events like the art museum or the zoo was where I saw the majority of fruit beginning to grow. A kid in my care would surprise me by doing something nice or having an appropriate conversation with a person in the community. Even something as simple as a smile goes a long way. On Sundays I would take boys to the YMCA, typically we would play basketball and lift weights; it also served as a great way for me to get some much needed exercise. I played basketball with them until I was drenched in sweat and my feet began to hurt. Nearly to my breaking point physically, I willed myself to give that extra ounce of effort in my game. Outwardly I was exhausted; that's the point where I was ready to pass out, but the passion to model how to push through and overcome adversity was where I felt most effective connecting with the youth.
CEDARS: How have your values influence your work?
Roderick: The atmosphere at CEDARS is one where you lend a helping hand, offer encouraging words, give uplifting advice, and feel comfortable asking for help. I have so many stories from working with the kids in Pioneers Center it's hard to pinpoint one. I try to work without an ego, and I allow myself to be vulnerable.
CEDARS: What is your favorite part about your work?
Roderick: My favorite part is playing ping-pong or any type of competition (sports usually) with the youth. It takes me back to when I was a child. I also enjoy helping them during their moments of crisis and I like seeing them receive the help they have not gotten before.
CEDARS: What do you like to do when you're not at work?
Roderick: As a first time father, much of my time is spent with the primary passion of my life, my beautiful two-month old daughter. As much as she is learning about me, I am learning about her.
CEDARS: What is something you have learned while working at CEDARS?
Roderick: I have grown so much personally and professionally in my short time at CEDARS. If I had to say one thing, I learned to honor the past more appropriately. It is not by mistake that we are where we are as an organization. I feel honored to continue to help kids in crisis.
Watch Roderick talk about how the CEDARS Holiday Gift Drive gives joy to children on the CEDARS Facebook page.