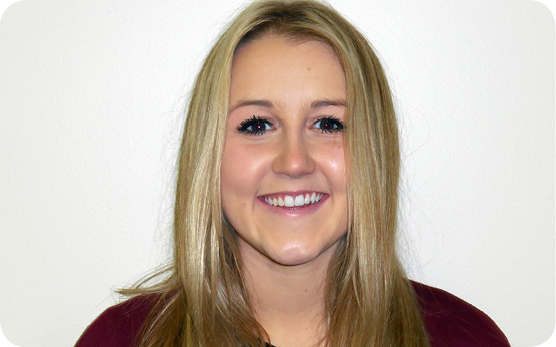 As a Relief Youth Specialist, Morgan enjoys the flexibility of stepping into various positions across the agency.
CEDARS: Hi, Morgan!
Morgan: Hi!
CEDARS: Tell us a little about yourself.
Morgan: I really love coffee shops and spending time with people hearing their stories. I love sharing appetizers and to be able to try all the desserts when we go out to eat. I love adventuring, running and exploring new places. My favorite childhood memory is when I received my dog, Shelby. Shelby was a Springer Spaniel, and I was an only child for eight years of my life so I used to call her my sister.
CEDARS: What is your typical day like?
Morgan: I float between the different early childhood and school age programs at CEDARS. Each day is something new, and I really, really enjoy that I never know what to expect. I usually aid another teacher in some way. I am able to rock babies, play with preschoolers or interact with elementary school children. It's always a surprise when I show up for work.
CEDARS: How long have you worked at CEDARS?
Morgan: Officially since October, I believe!
CEDARS: What keeps you coming to work each day?
Morgan: The teeny corners of a smile that form on the child who didn't want to interact earlier that day. The laughter and love that comes from a child who eventually trusts your authority. The imagination and scenarios in the dress-up area that I can be a part of.
CEDARS: What is your favorite part about your job?
Morgan: I love the flexibility of my job. I also really love that my job allows me to interact and do something different each day. I love the change of scenery.
CEDARS: How have you "found your fit" at CEDARS?
Morgan: I have found there are so many personalities of children, teachers, supervisors and parents. My position allows me to work and learn from many different people in different locations. Some similarities, but many differences allow me to grow in new ways.
CEDARS: How do you know that you're making an impact?
Morgan: There was a day that I was in the preschool room. It was the end of the day, and the kids had been inside due to cold weather. They became a little unruly because they truly just needed to release some energy. As an outlet, we pretended to be "Secret Agent Kitties" tiptoeing around the room, practicing our spy rolls and using code words to freeze or huddle. The kids sometimes forget my name, but many of them remember the day we did spy training.
CEDARS: What would you say to someone considering joining you as a Relief Youth Specialist?
Morgan: Flexibility allows a person to bend in adversity rather than break. Love your kids, your parents and your coworkers because you never know what causes them to have the type of day that they are having.