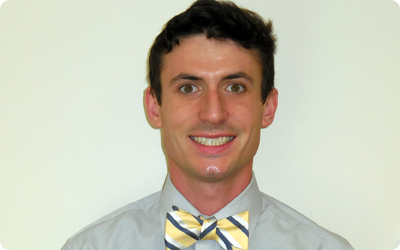 As a CEDARS team member, he supported Cameron and McIntyre's family and helped find them beds.
CEDARS: Hi, Nathan. Can you tell us what it was like when you were a kid?
Nathan: I grew up in a city called Pleasant Hill, which is a suburb of Des Moines, IA. It is a quiet, quaint city that did not have a whole lot going on. Most days were filled with exploring the woods in the area, going to the many parks, playing tag in the cornfields, or going to the local water park when the weather allowed.
CEDARS: What is your favorite childhood memory?
Nathan: My favorite childhood memory by far is going to the Iowa State Fair. Each year my extended family from Illinois would come to town, and we would spend the entire day looking at all of the attractions (such as the famous butter cow), eating WAY too much food, and riding as many rides as possible. When the fireworks would go off at midnight, we would sit down with our last meal, which was usually funnel cake and enjoy the show. Then on the ride home my cousins and I would inevitably fall asleep. It is a tradition that continues to this day.
CEDARS: How long have you worked at CEDARS?
Nathan: I have worked at CEDARS for almost a year as a family support specialist. I first heard about CEDARS from a friend whose sorority supports CEDARS for their annual philanthropy. I searched through the open positions at cedarskids.org and the family support specialist position was what resonated best with me, so I decided to apply.
CEDARS: What does a family support specialist do?
Nathan: As a family support specialist, my main job is to work directly with clients to help them accomplish specific goals in order to reunify or preserve the family. Most of my day is filled with appointments that I schedule with parents to work on those goals, but I also fully supervise or monitor visits between parents and their children. One thing about family support that everyone should know is that our work is a team effort. The success of the families we serve is due to everyone, not just one member. It is because of the constant communication and strong support from our supervisors and each other that we are able to do what we do.
CEDARS: What is your favorite part about your work?
Nathan: My favorite part is getting to see the reunification process between parent and child. Seeing the progress that clients make towards their goals is very rewarding, especially when you have been the one helping them accomplish those goals.
CEDARS: What do you like to do when you're not at work?
Nathan: When I'm not at work I love to stay active. I am a part of a Frisbee league that goes year-round and play racquetball on a regular basis and when the weather is nice I go on bike rides. I also read in my spare time and keep up-to-date on the latest movie news.
CEDARS: Is there one particular client that you feel was significantly impacted at CEDARS?
Nathan: One of the most memorable experiences I have had so far has been getting beds for a family I served. A mother was struggling to provide safe and stable housing for her children. Through Slumberland's 40 Winks Foundation I helped her receive two twin beds for her children who previously had to sleep on the floor. Getting to see the look on the kids' faces when they first saw the beds was priceless.